Obtained by solving Clip

Posted on 10 October 2014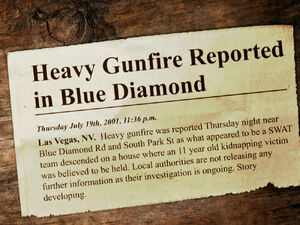 Transcript
"Heavy Gunfire Reported in Blue Diamond
Thursday July 19th, 2001, 11:36 p.m.
Las Vegas, NV. Heavy gunfire was reported Thursday night near Blue Diamond Rd and South Park St as what appeared to be a SWAT team descended on a house where an 11 year old kidnapping victim was believed to be held. Local Authorities are not releasing any further information as their investigation is ongoing. Story developing."
Extra Notes
This is an event that occured 13 years prior to the post in Las Vegas the city where Stella lives at the moment.
The location mentioned is Here
Ad blocker interference detected!
Wikia is a free-to-use site that makes money from advertising. We have a modified experience for viewers using ad blockers

Wikia is not accessible if you've made further modifications. Remove the custom ad blocker rule(s) and the page will load as expected.