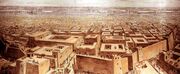 Posted on 15 January 2015
Transcript
There is a good deal of Truth in this article, and it highlights many of the most significant aspects of the Harappans. Students, this Line has been relatively quiet so far, but I urge you all to look carefully at it. There is great, untapped power there.
And thanks to the several Students who pointed this out to me. It is appreciated. -S
Ad blocker interference detected!
Wikia is a free-to-use site that makes money from advertising. We have a modified experience for viewers using ad blockers

Wikia is not accessible if you've made further modifications. Remove the custom ad blocker rule(s) and the page will load as expected.