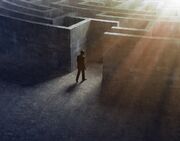 Posted on 16 May 2015
Puzzle
Today's Challenge will test your knowledge of this week's Challenges:
Use four of the five methods from the challenge puzzles earlier in the week (Tuesday through Friday).
There are five parts to solving this Saturday challenge puzzle:
The first two symbols are codes in the Pigpen Cipher, used in Tuesday's Compass challenge puzzle. The symbols translate to the letters "PN".
For the three words in the middle, we recognize the word "poxviruses" as being similar to the word "POXVIRUS" in Wednesday's Marble Columns challenge puzzle, where the words contained Roman numerals. Using that same method, the three words translate to three more letters:

aftershave - V - 5 - E
poxviruses - XVI - 16 - P
hungover - V - 5 - E

Those three words in the middle also work as stl.la links.  Strangely, all three simply redirect to the same link, which is one that is normally used for Q-R Codes, but we don't see the code here.  The link, Q-R.to/12TC , redirects to three different pages on the Ancient Societies site, depending on the country and those pages have the text "n of 3", similar to Friday's Case Study challenge puzzle. Those pages also have images with what look like parts of letters of the alphabet.
* all three redirect to Q-R.to/12TC
Overlaying the three images reveals three more letters:
The three rectangles at the bottom are symbols in the Color Alphabet, which was used to decode Thursday's A Terrible Thing challenge puzzle. The rectangles translate to the letters "SOY".
We put the four parts together to get "PNEPEXRSSOY". Recognizing that we have used four different methods from earlier in the week, we try the alternating letters method from Monday's Brandenburg challenge puzzle to get something meaningful.  Separating them like this "PNEPEX --- RSSOY" and taking letters from alternating sides like on Monday gives us "PRNSESPOEYX". Since there are an odd number of letters and the first group has one fewer letter than the rest, we also try adding a space and separating them like this "PN EPE --- XRSSOY" but that gives us "PXNR SESPOEY".
Trying other methods to make sense of the "
PNEPEXRSSOY
" string of letters, we discover that it's an anagram of "PONY EXPRESS".  The solution is
stl.la/ponyexpress
.
Ad blocker interference detected!
Wikia is a free-to-use site that makes money from advertising. We have a modified experience for viewers using ad blockers

Wikia is not accessible if you've made further modifications. Remove the custom ad blocker rule(s) and the page will load as expected.