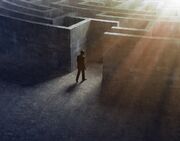 Posted on 3rd December 2014
Puzzle
You guys are amazing...
Notice there is an exit. So this must mean you are starting at the entrace. Now what could the numbers be when you are moving from point A to point B ?
There are multiple paths , but only one will give you something that makes sense in english (and with that we mean words in english that in order make sense and are the solution)
Starting from the top left you will have to move right or left, up or down giving X amount of steps, where X is the number of the square where you are at the begining of the move.
The path we are looking for looks like this.
Moving this path down to the grid with the letters we can spell out TUNNELFIFTYSEVEN (this was a famous tunnel in the Berlin wall)
stl.la/tunnel57 leads to Where You Belong

Transcript:
Stella -
I KNOW THIS HAS BEEN A DIFFICULT TIME FOR YOU -
IT HAS BEEN FOR EVERYONE. BUT I'M REALLY GLAD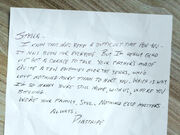 WE GOT A CHANCE TO TALK. YOUR FATHER'S MADE
QUITE A FEW ENEMIES OVER THE YEARS, WHO'D
LOVE NOTHING MORE THAN TO HURT YOU. WHICH IS WHY
I'M SO HAPPY YOU'RE STILL HOME, WITH US, WHERE YOU
BELONG.
WE'RE YOUR FAMILY, STEL, NOTHING ELSE MATTERS.
ALWAYS,
PINSTRIPE
Ad blocker interference detected!
Wikia is a free-to-use site that makes money from advertising. We have a modified experience for viewers using ad blockers

Wikia is not accessible if you've made further modifications. Remove the custom ad blocker rule(s) and the page will load as expected.