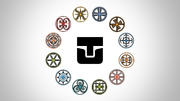 Posted on 31 March 2015
Transcript
Students,
I've gotten a number of requests for official versions of logos, posters, and other assets. I've created a folder on Google Drive with lots of material here:
Ancient Societies - Official Assets
Please feel free to use these digital files to create art, recruit, or anything else you want, as long as you remain respectful of what they represent. And, yes, if you submit art or recruit others, you will be rewarded soon.
If there are other things you'd like to have, please let me know below. I'll do my best. Be creative and have fun!
-S
EDIT: We're still working on giving credit for recruiting, but it will very simple. Please be patient a little while longer.
Extra notes
Below are backups of those assets
Ad blocker interference detected!
Wikia is a free-to-use site that makes money from advertising. We have a modified experience for viewers using ad blockers

Wikia is not accessible if you've made further modifications. Remove the custom ad blocker rule(s) and the page will load as expected.