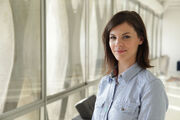 Original Link
Posted 28 October 2014
Transcript
Students, I wanted to bring a few exciting things to your attention.
First, as some of you may have noticed, there is a new GALLERY page where I will be posting various creations from all of you. These creations can be nearly anything - art, video, poetry, music - that speaks to your connection with the Truth, your Line, or your fellow Students. You can email submissions to 12ANCIENTLINES+CREATE@GMAIL.COM. I can't guarantee everything will make it to the Gallery but all submissions will be recognized. I look forward to your contributions!
Second, on Thursday October 30th, at 11am PT / 2pm ET / 6pm GMT, I will be answering your questions with a video response in real-time. I'll open up for questions a bit beforehand on AncientSocieties.com, so get ready. The best way to follow along will be on Twitter, so please Follow Me and tell your friends. The hashtag will be #StellaQA.
Finally, I want to re-emphasize how important it is to Spread the Truth, both by Sharing and by Recruiting. Ask your friends to sign up to Roll Call and tag you (+name) in their post to get credit. Also, when you Share please use the hashtag #AncSoc so that your efforts are recognized.
There are many, many more exciting things on the horizon. Thank you for your loyalty.
Ad blocker interference detected!
Wikia is a free-to-use site that makes money from advertising. We have a modified experience for viewers using ad blockers

Wikia is not accessible if you've made further modifications. Remove the custom ad blocker rule(s) and the page will load as expected.