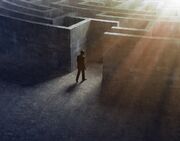 Posted on 12 February 2015
Puzzle
filler
The single letters are the inital letters of various languages. Match the words to the languages:
  B - Basque - aterki
  C - Czech - deštník
  D - Dutch - paraplu
  E - English - umbrella
  F - French - parapluie
  G - German - regenschirm
  H - Hindi - छाता
  I - Italian - ombrello
  J - Japanese - 傘
  K - Korean - 우산
  L - Latvian - lietussargs
  M - Maori - hamarara
  R - Russian - зонт
  S - Swedish - paraply
  T - Turkish - şemsiye
  W - Welsh - ymbarél
  Z - Zulu -

Notice that these are all the word for "umbrella" in the respective language. But the one for the Zulu language is missing.
The answer is stl.la/isambulela
Reward
filler
Ad blocker interference detected!
Wikia is a free-to-use site that makes money from advertising. We have a modified experience for viewers using ad blockers

Wikia is not accessible if you've made further modifications. Remove the custom ad blocker rule(s) and the page will load as expected.