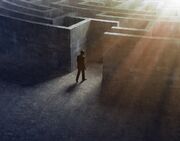 Posted on 24 June 2015
Puzzle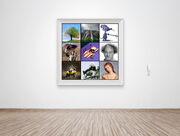 Each image is actually a number
Don't forget there is a phone in the wall
The subject of each of the nine pictures represents a number:

4 (Four Seasons)

7 (Seven Sisters)

3 (Three Blind Mice)

3 (The Three Amigos)

5 (Mach 5)

3 (The Three Stooges)

4 (Four-Wheeler)

7 (Seven Samurai)

3 (The Three Graces)

473353473

From the position of the pictures/numbers plus the clue of the phone on the wall, you convert these numbers into letters (using a tool such as http://dialabc.com/words/search )

This gives you the answer: Greek Fire
Reward
The photo in Trash
Ad blocker interference detected!
Wikia is a free-to-use site that makes money from advertising. We have a modified experience for viewers using ad blockers

Wikia is not accessible if you've made further modifications. Remove the custom ad blocker rule(s) and the page will load as expected.