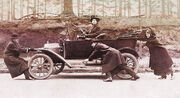 Posted on 12 May 2015
Transcript
Hello Students!
As promised, two important changes are happening today.
First, it is no longer necessary to comment on solution pages in order to receive credit for a solve. Your score will be incremented as soon as you go to a solution page while logged in. You should see a notification in the lower left of the screen. Please feel free to comment on the subject of the Challenge or discuss it amongst yourselves, but it is no longer a requirement.
Second, given the volume of solvers now, we've updated the points and scoring tiers. Starting today, May 12th, all Challenges will be scored, in order of solution time:
1-20: 200 points
21-70: 100 points
71-250: 50 points
251+: 10 points
This will not be retroactive. All prior Challenges will continue to be scored as before.
Next up, you will soon be able to see all of the Challenges you've solved in your profile.
Thanks for being patient! Questions and comments below.
-S
Ad blocker interference detected!
Wikia is a free-to-use site that makes money from advertising. We have a modified experience for viewers using ad blockers

Wikia is not accessible if you've made further modifications. Remove the custom ad blocker rule(s) and the page will load as expected.