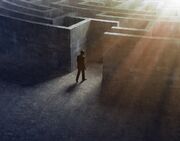 Posted on 11 May 2015
Puzzle
Today's Challenge will test your skills of logic and observation.
Alt...
The image is the Brandenburg Gate with the letters RHPS on the left and OROT on the right.
There's a clue. And it's Monday, so it doesn't have anything to do with "Alt" on the keyboard.
Left, right, left, right, .... Keep marching.
Rearrange the letters, alternating the left and right groups: ROHRPOST  The solution is stl.la/rohrpost .
Ad blocker interference detected!
Wikia is a free-to-use site that makes money from advertising. We have a modified experience for viewers using ad blockers

Wikia is not accessible if you've made further modifications. Remove the custom ad blocker rule(s) and the page will load as expected.