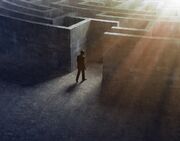 Posted on 22 November 2014
Puzzle
This takes a full set of keys.

vhvumtsimwnlcrvqinxyinpxoae

ihfkohriuyhacuvatbvrrfdeblrv

wilfoffilhvkzlhcnlvhhge

thrpvhmsxcfpuskymi

zmacvagogntqwspwqdbapetwm
Remember this is the last puzzle of the week and all previous solves are needed
Stella mentions the word keys. There are some ways of encrypting words using keys
Each line is encrypted with a viginere. The key begin the solve of each of this week daily challenge

vhvumtsimwnlcrvqinxyinpxoae
Key - cardiffgiant
thereoncewasarenaissanceman

ihfkohriuyhacuvatbvrrfdeblrv
Key - mariatheresa
whocookedupaquestionableplan

wilfoffilhvkzlhcnlvhhge Key - patagon
hisfirstlovelysculpture

thrpvhmsxcfpuskymi
Key - snahrevelc
buriedromanculture

zmacvagogntqwspwqdbapetwm
Key - Zzxjoanw
andthatshowhiscareerbegan

there once was a renaissance man  who cooked up a questionable plan his first lovely sculpture buried roman culture and that's how his career began
This matches with Michelangelo's Cupid
stl.la/Michelangelocupid leads to the Who Am I? video
Ad blocker interference detected!
Wikia is a free-to-use site that makes money from advertising. We have a modified experience for viewers using ad blockers

Wikia is not accessible if you've made further modifications. Remove the custom ad blocker rule(s) and the page will load as expected.