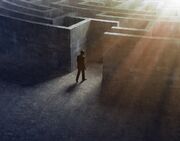 Posted on 28 April 2015
Puzzle
This challenge is pretty good...
Privacy is also pretty good
At first it appears to be a series of random words, but with a bit of research (and with the hint) you find this is from the PGP word list .

When you translate the words into their hex values and then transpose them back to letters you get:

Which refers to Tammy Faye, as the one who would often be seen crying on television.

Answer: Tammy Faye
Reward
The text in Whatever It Takes (Robyn blog)
Ad blocker interference detected!
Wikia is a free-to-use site that makes money from advertising. We have a modified experience for viewers using ad blockers

Wikia is not accessible if you've made further modifications. Remove the custom ad blocker rule(s) and the page will load as expected.