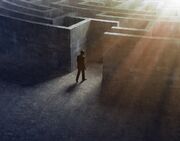 Posted on 9 May 2015
Puzzle
This challenge will require your skills of pattern recognition, lateral thinking and, for the first time, collaboration and teamwork:
A matter of perspective...
The Q-R code in the image translates to the link: q-r.to/0xLx. This link leads to five different Ancient Societies pages, depending on the operating system.
Reading down the last two columns gives the solution stl.la/endlesssea .
Ad blocker interference detected!
Wikia is a free-to-use site that makes money from advertising. We have a modified experience for viewers using ad blockers

Wikia is not accessible if you've made further modifications. Remove the custom ad blocker rule(s) and the page will load as expected.