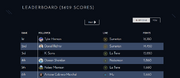 The 
Leaderboard
 is a way of rewarding players of 
Endgame: Ancient Truth
. It has had several incarnations and bugs tend to be common, normally resulting in players complaining about it.
Right now it seems the only way of scoring is by solving Challenges. The score depends on the amount of people that solved it already, thus giving higher scores to the first solvers.
1-20: 200 points
21-70: 100 points
71-250: 50 points
251+: 10 points
Puzzles released before May 12th were scored in the following way
1st-12th = 100 Points 
13th-36th = 50 Points 
37th and thereafter = 10 Points

It has been promised that the first 1000 players in the leaderboard will get a beta invite and a Stella medal. This is diferent from what was announced back in First AncSoc Measurement in 30th of March were it was an invite for the first 500 and a medal for the first 200. This measurement never occurred.
Pages in category "Leaderboard"
Ad blocker interference detected!
Wikia is a free-to-use site that makes money from advertising. We have a modified experience for viewers using ad blockers

Wikia is not accessible if you've made further modifications. Remove the custom ad blocker rule(s) and the page will load as expected.