Ad blocker interference detected!
Wikia is a free-to-use site that makes money from advertising. We have a modified experience for viewers using ad blockers

Wikia is not accessible if you've made further modifications. Remove the custom ad blocker rule(s) and the page will load as expected.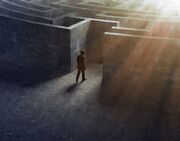 Posted on 12 May 2015
filler
Although the square and compass is a symbol of the Freemasons, that might steer you astray.  Something similar in more popular culture is the key.
It shares its name with a dirty little character from Peanuts.
Using the Pigpen Cipher to decode the message, it says: "wedge shaped writing on clay".  The solution is stl.la/cunieform