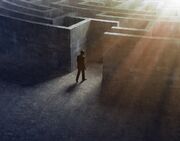 Posted on 21 November 2014
Puzzle
This Challenge is 99% math-free!

Like mentioned by Stella this challenge has no math. Try and read what is written.
Notice the puzzle has 3 parts each of them representing a word or letters. Also remember it is a hoax you are looking for. So even solving part of this puzzle you may be able to find the solution.
The puzzle is a rebus the translation is as follows
X+((Blackhearths)||(Rivers), 2(alphabet - all letters except Z), Lambert W function
Blackhearths and Rivers have in common one name that is Joan. 
So simplifing it all you get xJoan, zz , w
Following the instructions for the order you get zzxjoanw which is yet another hoax
Reward
The audio in Silly Little Worms
Ad blocker interference detected!
Wikia is a free-to-use site that makes money from advertising. We have a modified experience for viewers using ad blockers

Wikia is not accessible if you've made further modifications. Remove the custom ad blocker rule(s) and the page will load as expected.