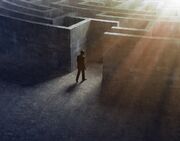 Posted on 20 January 2015
Puzzle
Clue: Not All Teachers Orate. I can relate.
Lots of steps for a Tuesday.  Second part of clue says what to do with firsts of first.
The words you see need to be related to the Not All Teachers Orate phonetic alphabet.
Relating the NATO phonetic alphabet to the words in the image, in order based on the numbers, results in:
 1 KiloGRAM
 2 EchoPLEX
 3 Romeo SANTOS
 4 EchoPLEX
 5 Tango DANCE
 6 Hotel CALIFORNIA
 7 Oscar NOMINEE
 8 Uniform DISTRIBUTION
 9 Sierra NEVADA
10 EchoPLEX

Taking the first letter of each of those results in the solution stl.la/kerethouse .
Reward
Ad blocker interference detected!
Wikia is a free-to-use site that makes money from advertising. We have a modified experience for viewers using ad blockers

Wikia is not accessible if you've made further modifications. Remove the custom ad blocker rule(s) and the page will load as expected.