Ad blocker interference detected!
Wikia is a free-to-use site that makes money from advertising. We have a modified experience for viewers using ad blockers

Wikia is not accessible if you've made further modifications. Remove the custom ad blocker rule(s) and the page will load as expected.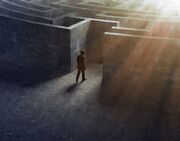 Original Link
Posted on day June 2015
You see a plus.
You make the leap that you need to insert a plus between of each of the week's official answers (PRECISELY as entered)
3.1415926+867-5309+365+9780778313533+82975
Official Solution:
You see a plus.
You make the leap that you need to insert a plus between of each of the week's official answers (PRECISELY as entered):
3.1415926+867-5309+365+9780778313533+82975
This gives you your answer:
9780778392434.1415926
stl.la/9780778392434.1415926
This week's theme: Numbers