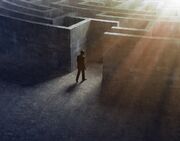 Posted on 28 January 2015
Puzzle
filler
Do you know your constellations?
The bright spots on the crate represent the stars in a particluar constellation, namely Lepus, The Hare. The solution is stl.la/lepus .
Reward
Under the Door Someone put a piece of paper under Stella's door. It had a series of Ingress glphys that said old truth, new journey.
Ad blocker interference detected!
Wikia is a free-to-use site that makes money from advertising. We have a modified experience for viewers using ad blockers

Wikia is not accessible if you've made further modifications. Remove the custom ad blocker rule(s) and the page will load as expected.