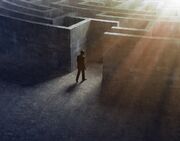 Posted on 11 January 2015
Puzzle
Sometimes three sets of twins leads to a trio...
Notice the shapes of each figure. 
You might want to check on those color values
By extracting the Hex value of each color you will get 
66616c /  736520 /  626f74 / 746f6d / 656420 / 627269 / 656663 / 617365
Convert this from Hexadecimal to ASCII to get false bottomed briefcase
(Note  this also works with the RGB values but in this case the conversion will be from decimal to ASCII)
stl.la/falsebottomedbriefcase takes you to Really Inspired
Reward
The video Lyric
More info on it's own page
Ad blocker interference detected!
Wikia is a free-to-use site that makes money from advertising. We have a modified experience for viewers using ad blockers

Wikia is not accessible if you've made further modifications. Remove the custom ad blocker rule(s) and the page will load as expected.