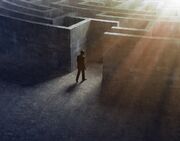 Posted on 29 May 2015
Puzzle
You'll find an anagram for something to do with air travel.  I was almost going to say it has the same initials as Greatest Common Multiple, but I don't think there is any such thing. Clicking on the image will help you get one of the words by yourself and if that's not enough, you might want to collaborate with someone else or try other Internet-connected devices you have.
Find a total for all 19 segments. Don't use Songshan or Ministro Pistarini, use other ones instead. Try different units of measure.
Path #1: The blue letters in the "Airline" column on the Departures board are "ERRGCECM" and in the "Destination" column they are "RIAPLATEP".  "ERRGCECM RIAPLATEP" is an anagram containing the words "GREAT CIRCLE" which leaves the letters "RM PAEP", an anagram for the word "MAPPER".
Path #2: Clicking on the image takes you to one of three different pages on the Ancient Societies site, depending on the operating system:
1 of 3: http://www.AncientSocieties.com/kjr9feek3i/
  Begin at London Heathrow...
   5801 sinGapore
   7364 ameRican
   6798   dElta
    328  guAngzhou
   2033    Taipei

2 of 3: http://www.AncientSocieties.com/qj9debozk3/
  ...end at Sydney...
   7381        ameriCan
    103          manIla
    268 london heathRow
   7743        ameriCan
      5         auckLand
   7860            dElta

3 of 3: http://www.AncientSocieties.com/mwrx9z3pv/
  ...stopping at all points in between.
   7366    aMerican
      1     Aukland
   4091   paPeete
     77     Paris
   5815 taipEi
   4011   aiR New Z.

Reading the blue letters from each flight for the flight numbers on each of those three screens results in the three words "GREAT CIRCLE MAPPER".
Convert the destinations for each of the flights on the Departures board to their airport codes.
  London Heathrow   LHR
  Manila            MNL
  Auckland          AKL
  Paris             CDG
  Sydney            SYD
  Auckland          AKL
  Sydney            SYD
  Guangzhou         CAN
  Nadi              NAN
  Hong Kong         HKG
  Melbourne         MEL
  Taipei            TPE - don't use TSA - Taipei Songshan / Sung Shan
  Brisbane          BNE
  Buenos Aires      BAI - don't use EZE - Ministro Pistarini International
  Taipei            TPE
  Seoul Incheon     ICN
  Taipei            TPE
  Papeete           PPT
  Brisbane          BNE
  Sydney            SYD

The top result in a Google search (at least mine) is the Great Circle Mapper at GCMap.com.  Use it to find the total Great Circle distance for all of the flights in the order listed, beginning at London Heathrow, ending at Sydney and stopping at all points in between, as directed by the three different pages listed above.
The total distance is 95,485 miles, but stl.la/95485 doesn't work. Trying different units, stl.la/82974 for 82,974 nautical miles doesn't work either, but 153,669 kilometers does work. The solution is stl.la/153669.

http://www.AncientSocieties.com/8s2c9p7j5p/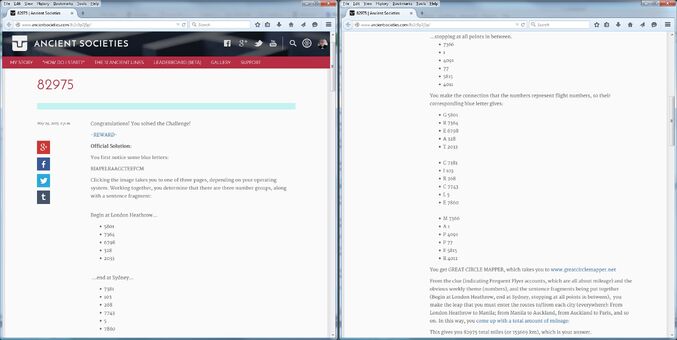 (The official solution has 3 "A"s and 2 "R"s in the list of blue letters, but it should be 3 "R"s and 2 "A"s.)
Ad blocker interference detected!
Wikia is a free-to-use site that makes money from advertising. We have a modified experience for viewers using ad blockers

Wikia is not accessible if you've made further modifications. Remove the custom ad blocker rule(s) and the page will load as expected.