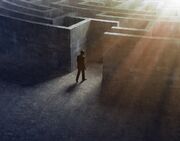 Posted on 17 January 2015
Puzzle
Torta a strati.

31 43 12 11 14 32 12 11 15 22 

The images are from challenges of this week. Try to see from which one and know that solving them is not needed this time to solve this puzzle.
Notice the numbers given always have 2 digits and those digits go between 1 and 5
First you will need to see which image belongs to which puzzle
Thursday QFOGY 
Tuesday  LAMUB
Friday   ZXHWP
Wednesday RICNV
Monday  ESKDT
After that just reorder them chronologically
ESKDT
LAMUB
RICNV
QFOGY 
ZXHWP
And finally using the numbers as a reference you can choose specific letters as if they were in a 5 x 5 matrix
Example 31 means line 3 , 1st letter which the R
In the end you obtain rosediseta.
stl.la/rosediseta leads to Support Group
Reward
The video Support Group
Ad blocker interference detected!
Wikia is a free-to-use site that makes money from advertising. We have a modified experience for viewers using ad blockers

Wikia is not accessible if you've made further modifications. Remove the custom ad blocker rule(s) and the page will load as expected.