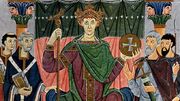 Original Link
Posted 8th November 2014
Transcript
As if we needed more evidence of their deception...
http://io9.com/did-a-pope-and-an-emperor-team-up-to-erase-300-years-of-1651594813
Ad blocker interference detected!
Wikia is a free-to-use site that makes money from advertising. We have a modified experience for viewers using ad blockers

Wikia is not accessible if you've made further modifications. Remove the custom ad blocker rule(s) and the page will load as expected.