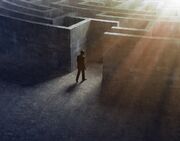 Posted on 29 April 2015
Puzzle
The title itself shows you the path you need to take
TPOFA  AHNFR  REDRO  MEOHO  COUTE  BENAC  EHTFO  LMETT  EOLOX  TTEYO  FTTHI  ATOLO  CRHAF

From the clue of a spiral staircase winding down counterclockwise (along with the title), you determine that this might be a route puzzle in the shape of a spiral. Since there are 13 sets of 5 letters, you determine that they'll need to fit into a 5x13 grid. You begin filling in the letters from the top left in a counter-clockwise downward spiral (as is the staircase in the photo):

This then reveals a message when read left to right:

"The captain of the football team of the country of the creator of the loxodrome."

Researching this gives you:
Creator of the loxodrome: Pedro Nunes
Pedro Nunes' nationality: Portuguese
Captain of Portugal's National Football Team (Seleção Portuguesa de Futebol): Cristiano Ronaldo
Answer: Cristiano Ronaldo
Reward
The message in Rima
Ad blocker interference detected!
Wikia is a free-to-use site that makes money from advertising. We have a modified experience for viewers using ad blockers

Wikia is not accessible if you've made further modifications. Remove the custom ad blocker rule(s) and the page will load as expected.