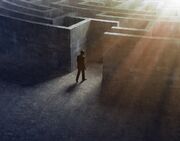 Original Link
Posted 16th November 2014
Puzzle
Usually the path is just as important as the destination.
A dead man's hand with garlic is a sad shape.
I'm basing this on the idea that it was a scared stab at Vlad.
Remember last puzzle of the week so you are gonna need the other 5 solves. In this case Stella mentions the path being more important than the destination.
Take a good look at the text and at what you got. There will be some diferences maybe they can help you. 
Note add an R to all you find
In the text there are some similar words to solutions of this week
Path #1:
dead man's hand 
garlic  - gaelic
shape - snake 
basing - boeing 
scared - smores
Checking the new letters you can obtain rascadhp. Via this path, you need another "r".

Path #2:
dead man's hand 
garlic - gaelic - r
shape - smores - hap 
basing - boeing - as 
scared - snake - crd
The new letters here are "rhapascrd".

Then:
Anagram it to cardsharp.
stl.la/cardsharp  leads to the video Paranoia
Ad blocker interference detected!
Wikia is a free-to-use site that makes money from advertising. We have a modified experience for viewers using ad blockers

Wikia is not accessible if you've made further modifications. Remove the custom ad blocker rule(s) and the page will load as expected.