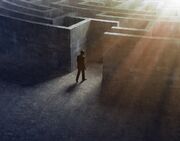 Posted on 17 March 2015
Puzzle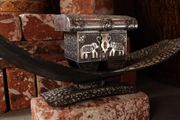 Think about the lenght of the words and why they are like that
Official Solution: The text on the jewelry box is split into two separate strings. If you put one on top of the other, it looks like: S R C L R N E T O T I K E I V N I N It is a simple transposition cipher, where the letters have been "split" into 2. And when put together you get:

STRICKLER INVENTION If you look for Strickler's invention, you find the answer: BANANA SPLIT, hence the words being split into two and the fun shape of the dish in the image.
stl.la/bananasplit leads to Banana-split
Ad blocker interference detected!
Wikia is a free-to-use site that makes money from advertising. We have a modified experience for viewers using ad blockers

Wikia is not accessible if you've made further modifications. Remove the custom ad blocker rule(s) and the page will load as expected.