This page is about the social accounts name Endgame. check here for Endgame - The Calling info or here for Endgame - Sky Key
General Info
Online
- 
Twitter
 / 
Google +
 / 
Website
 / 
Tumblr
 / 
Facebook
 / 
Instagram
This account seems to serve the purpose of promoting all related to Endgame .
Extra details
The webpage was the way to found all the other accounts
The Endgame symbol has 2 snakes in it. Possibilities can be
Images
Website
So far this is the only image visible in the website. There is a similar one that was used for the G+ profile
Google +
These are the various images used in the G+ profile .
And these are the banner images
Videos
Below is a list of Endgame videos. 
Relevant posts
Masquerade
Did you know the idea for Endgame's puzzle-within-a-book came from a 1970s children's book called Masquerade ? It kicked off a global treasure hunt that lasted nearly three years. The BBC even did a documentary about him in 2009 called "The Man Behind the Masquerade."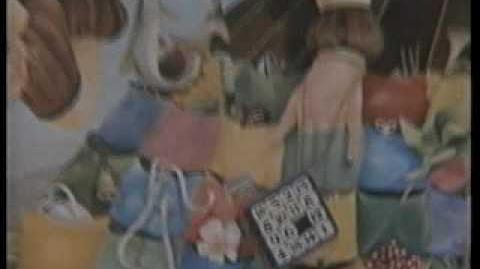 ---
London's Film and Comic Convention 2014
There was a chance to win signed copies if you would get a special sample given by one of the characters.
---
Comic-con 2014
During comic-con some more details were revealed on Endgame and a puzzle was given to allow people a chance to win Advanced Readers Copies
Google+ posts - 01 / 02 / 03 / 04 / 05 / 06
Twitter posts - 01 /02 /03 /04 /05
Facebook posts - 01 /02 /03 /04 /05 /06 /07
During the event people were invited to solve the following puzzle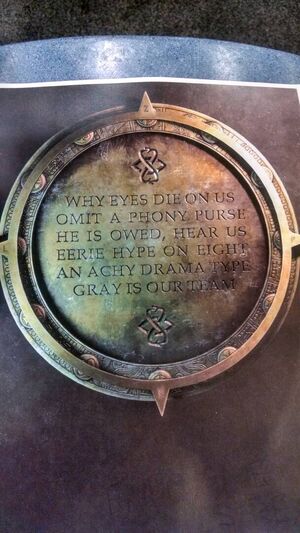 WHY EYES DIE ON US
OMIT A PHONY PURSE
HE IS OWED, HEAR US
EERY HYPE ON EIGHT
AN ACHY DRAMA TYPE
GRAY IS OUR TEAM
SOLUTION:
This was a phonetic puzzle . It requires a reshuffling to obtain the names
die on eyes us - dahy-uh-nahy-suhs Dionysus
purse a phony - per-sef-uh-ne Persephone
owed is he us - oh-dis-ee-uhs Odysseus
hype eerie on - hahy-peer-ee-uhn Hyperion
an drama achy - an-drom-uh-kee Andromache
our team is - ahr-tuh-mis Artemis

Why omit hear eight type gray - are words not used (one per line)
These can be order for phonetically sound like GREAT WHITE PYRAMID - Gray Eight Why Type Hear Omit
Ad blocker interference detected!
Wikia is a free-to-use site that makes money from advertising. We have a modified experience for viewers using ad blockers

Wikia is not accessible if you've made further modifications. Remove the custom ad blocker rule(s) and the page will load as expected.