Whether they are launch of books, concerts or just scanvenger hunts , if they are happening in the real world you will find them here
Endgameiscoming
In the page http://endgameiscoming.com/event/ 2 images with static were seen.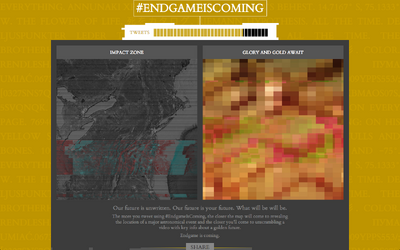 On the left side a map that was zooming and the other a fuzzy image of something
As more and more twitter posts occurred the more the bar on top would fill and the more info one could get on what was behind those 2 images
The impact zone images ended up being the following

Glory and Gold await would reveal  

They would also reveal 2 movies at the end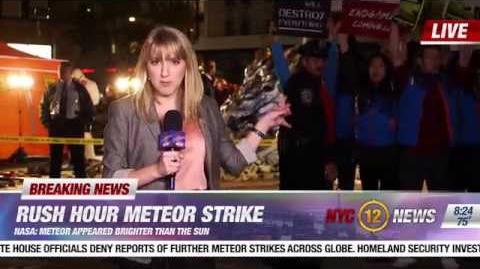 James Frey's 12-City International Tour
This tour plan is available in http://www.thisisendgame.com/tour
New York 
Tuesday, October 7 at 7:00 PM
With John Hanke, VP of Google's Niantic Labs, and DJs James Murphy & Pete Tong
Hammerstein Ballroom 311 West 34th Street New York, NY 10001
Tickets available Posts related
Twitter - 01 / 02 / 03/ 04 / 05
Facebook - 01
---
Framingham
Wednesday, October 8 at 7:00 PM
Barnes & Noble 1 Worcester Road Framingham, MA 01701
---
Dayton
Thursday, October 9 at 7:00 PM
Books & Co 4453 Walnut Street Dayton, OH 45440
---
Naperville
Friday, October 10 at 7:00 PM
With co-author Nils Johnson-Shelton
Pfeiffer Hall 310 E. Benton Avenue Naperville, IL 60540
---
Menlo Park
Saturday, October 11 at 6:00 PM
With John Hanke, VP of Google's Niantic Labs    
Kepler's Books 1010 El Camino Real Menlo Park, CA 94025
---
Huntington Beach
Tuesday, October 14 at 7:00 PM    
Barnes & Noble #2743 , 7881 Edinger Avenue #110 Huntington Beach, CA 92647
---
San Diego  
Wednesday, October 15 at 7:30 PM    
Mysterious Galaxy , 7051 Clairemont Mesa Blvd. San Diego, CA 92111
---
Highlands Ranch
Thursday, October 16 at 6:00 PM
Tattered Cover Highlands Ranch ,9315 Dorchester Street, Highlands Ranch, CO 80129
---
Las Vegas
Friday, October 17 at 7:00 PM    
Barnes & Noble #2772, 2191 N. Rainbow Blvd. ,Las Vegas, NV 89108
---
London
Sunday, October 19 at 2:00 PM
London Film & Comic Con ,Earls Court 2 ,Old Brompton Road , London SW5 9TA ,United Kingdom
---
London
Tuesday, October 21 at 7:00PM
Waterstones Piccadilly ,203-206 Piccadilly, London W1J 9HD ,United Kingdom
---
Toronto
October 28 at 7:00 PM
Chapters Queensway ,1950 The Queensway ,Toronto, Ontario. Canada M9C 5H5
---
Germany Events
Frankfurt
8th October - G+ Event page
Munich
23rd October - G+ Event page
Hamburg
30th October - G+ Event page
Ancient Societies
Las Vegas
Stella V  planned an event for Las Vegas for the 21st of February . More info on it's page
Ad blocker interference detected!
Wikia is a free-to-use site that makes money from advertising. We have a modified experience for viewers using ad blockers

Wikia is not accessible if you've made further modifications. Remove the custom ad blocker rule(s) and the page will load as expected.