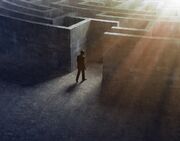 Posted on 5th January 2015
Puzzle
Just follow the standard...
Ignore the shapes and just focus on colours. Each column will supply with something that does not need to be reordered.
If you are thinking of flags you are in the right place. This website might help you
Each column corresponds to a country's flag colours.  The full list is : 
Suriname
Papua New Guinea
Estonia
Albania
Kazachstan
Egypt
Argentina
Sweden
Yemen
Taking each letter from each word you get SPEAKEASY.
stl.la/speakeasy takes you to Spacer Sleeve
Reward
Extra notes
This seems to be a full version of what was seen in Magazine
Ad blocker interference detected!
Wikia is a free-to-use site that makes money from advertising. We have a modified experience for viewers using ad blockers

Wikia is not accessible if you've made further modifications. Remove the custom ad blocker rule(s) and the page will load as expected.