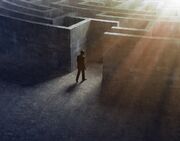 Posted on 9th February 2015
Puzzle
A kiss is just a kiss.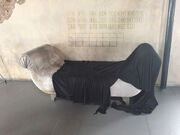 The image has several blocks of 3 letters. the right transcript is
HER DME SAB ECA ICM EXP OIN YTH
TEM GAR ONI TRA VAL CAI IRA FAL
LAN SPI CON QUE DIE OSE CEP
There is no need to change order inside each block but the order of the blocks needs to be shifted. There are 10 words hidden in there. It is not a sentence just words.
After you get the 10 words (that will include Monique and Casablanca) use your google skills. And remember a kiss is just a kiss, so all of them are just ...
Ordering the blocks we get 
TRA FAL GAR SPI CEP IRA TEM YTH EXP OSE DME DIE VAL HER OIN ECA SAB LAN CAI CON ICM ONI QUE
or as words
TRAFALGAR SPICE PIRATE MYTH EXPOSED MEDIEVAL HEROINE CASABLANCA ICONIC MONIQUE
These are all names of lipstick
stl.la/lipstick  leads to Kilij
Reward

Could be related to this quote from the books
"He is the Minoan. He squeezes the hilt of his knife. It's adorned with glyphs, understood only by him and the man who taught him
."
Ad blocker interference detected!
Wikia is a free-to-use site that makes money from advertising. We have a modified experience for viewers using ad blockers

Wikia is not accessible if you've made further modifications. Remove the custom ad blocker rule(s) and the page will load as expected.