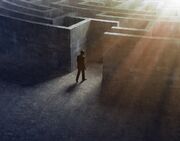 Posted on 28 February 2015
Puzzle
Cue the challenge!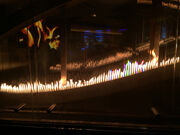 Notice the text clue mentions cue. Think in what scenario could you use the word cue and colors
Instead of trying to face all the flames at the same time try a pair at a time together with the answers you got related to the week puzzles.
Also the puzzle seems to be broken with some colors missing. The full list would be
Blue Red Orange Purple Yellow Orange Purple Green Yellow Blue Orange Yellow Purple Yellow Red Blue Yellow Red Orange Blue Yellow Blue Purple Red 
In the image there are 5 questions. They are meant to be related to the week solutions
Where?   Alice - Wonderland
To?   Catterpillar - Butterfly
From?    Werewolf - Man
Friend?   Candlewick - Pinochio
Describing?  Powerranger - Mighty
The colors in the bottom relate to Billiard Ball and their numbers. Using the correct list mention in the hint above we end up with the list of numbers (already paired)
2/3 5/4 1/5 4/6 1/2 5/1 4/1 3/2 1/3 5/2 1/2 4/3
Then using the first number of the pair as the word from the ones obtained and the second as a letter from that word we get the following
T H E C O M P A N I O N
Reward
The movie Sucker for a Good Story
Ad blocker interference detected!
Wikia is a free-to-use site that makes money from advertising. We have a modified experience for viewers using ad blockers

Wikia is not accessible if you've made further modifications. Remove the custom ad blocker rule(s) and the page will load as expected.