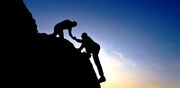 Posted on 30 March 2015
Transcript
Hi everyone,
Wow, what a weekend. So exciting in so many different ways. I'm incredibly grateful to everyone who came to visit me in Pasadena, and everyone who watched my livestream.
Now it's time to recognize my Students who weren't able to make it to Pasadena or Hannover, many of whom have been with me since the beginning. So, today I'm announcing that:
On Wednesday, at 12PM PST (GMT -07:00) I will be counting up all of the answers to all of the Challenges (you must have commented to be counted).
By Friday at 12PM PST, I will update the Leaderboard based on those results.
The top 500 people on the Leaderboard will be automatically placed on the Beta list for my training app, Endgame: Proving Ground.
The top 200 Ingress players on the Leaderboard will be given the Stella Medal.
Please note: This is only the first temporary step. There will be many more opportunities for recognition. Also, very soon, I will be adding more ways to gather points based on my own criteria and your suggestions. If you have been loyal and contributed to our community you will be recognized, regardless of your participation in the Challenges.
Lastly, remember that your performance here, your dedication to the Truth, will directly influence your abilities in Proving Ground. The Beta list is only the beginning.
Questions below.
Yours always,
Stella
EDIT: In response to some questions below, to be extra, extra clear... This measurement is just the first among many to come. I will be bringing many more people to the beta list, and giving out many more Stella medals after this week. And if you have already received those rewards, your position on the Leaderboard will continue to pay dividends, so keep up the good work!
EDIT #2: If you have earned a spot on the beta list by contributing to a cause, signing up at an event, or otherwise, I got you covered. Official invitations will happen down the line. In the meantime, participating will continue to benefit you.
Ad blocker interference detected!
Wikia is a free-to-use site that makes money from advertising. We have a modified experience for viewers using ad blockers

Wikia is not accessible if you've made further modifications. Remove the custom ad blocker rule(s) and the page will load as expected.