Ad blocker interference detected!
Wikia is a free-to-use site that makes money from advertising. We have a modified experience for viewers using ad blockers

Wikia is not accessible if you've made further modifications. Remove the custom ad blocker rule(s) and the page will load as expected.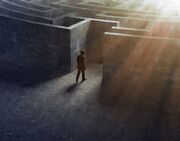 Posted on 18 February 2015
rollinghillsides.zip
To get the password just look at the image and see what looks out of place in the abstract.
For the word just google up all the terms you got so far (including the password). Something will appear several times.
To open the zip file use the password england (as hinted by the image)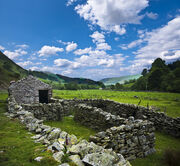 Inside there is one image and an audio file 
Tying everything together will give the word cotswolds
stl.la/cotswolds leads to Fight Night: São Paulo
The article in Fight Night: São Paulo