Ad blocker interference detected!
Wikia is a free-to-use site that makes money from advertising. We have a modified experience for viewers using ad blockers

Wikia is not accessible if you've made further modifications. Remove the custom ad blocker rule(s) and the page will load as expected.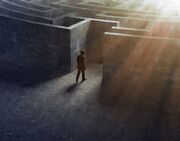 Original Link
Posted on 20th of October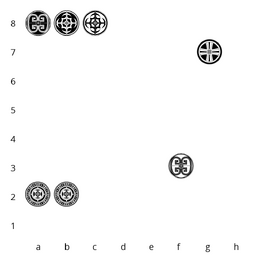 The Shang perfected the art of political combat.
The Donghu were known for attacking from all directions.
The Aksumites were a very spiritual people.
The Olmecs often used sacrifice.
It is the turn of Light.
What four movements lead to a field of perpetual gray?
Looking at the image what does that remind you. And the text does it help you figure what each icon represents.
Remember you are just controling White so your moves have to force Black to only do the move you need/want
Tha game is stalled if you move the queen and check the black king. This forces the black queen to move to protect the King and gets stuck in a 4 moves stalemate doing Qa6 Qa7 Qc8 Qb8.
This leads to stl.la/qa6qa7qc8qb8
The incident log there shows an attempt of cyber breach of something called Leandros. The log is called incidentlog20141006071052-071309.txt
Leandros Incident Log
2014.10.06-Autolog begin 07:10:52
07:11:09-rec/network/anomaly/
07:11:09-send/query/network/status
07:11:09-rec/network/breach
07:11:09-send/network/trace
07:11:10-rec/network/trace/null
07:11:10-send/network/firewall/set/level/7
07:11:10-rec/network/firewall/patch/ok
07:11:10-send/query/network/systemcheck
07:11:10-rec/network/ok
07:11:31-rec/network/anomaly/
07:11:31-send/query/network/status
07:11:31-rec/network/breach
07:11:31-send/network/trace
07:11:31-rec/network/trace/null
07:11:32-send/network/firewall/set/level/8
07:11:32-rec/network/firewall/patch/ok
07:11:32-send/query/network/systemcheck
07:11:32-rec/network/ok
07:12:09-rec/network/anomaly/
07:12:09-send/query/network/status
07:12:09-rec/network/breach
07:12:10-send/network/trace
07:12:10-rec/network/trace/null
07:12:10-send/network/firewall/set/level/9
07:12:10-rec/network/firewall/patch/ok
07:12:10-send/query/network/systemcheck
07:12:10-rec/network/ok
07:12:39-rec/network/anomaly/
07:12:39-send/query/network/status
07:12:39-rec/network/breach
07:12:39-send/network/trace
07:12:39-rec/network/trace/null
07:12:40-send/network/firewall/set/level/max
07:12:40-rec/network/firewall/patch/ok
07:12:40-send/network/templock
07:12:40-rec/network/templock/ok
07:12:40-send/network/alarm
07:12:40-rec/network/alarm/ok
07:12:40-send/query/network/systemcheck
07:12:40-rec/network/standby
2014.10.06-Autolog end 07:13:09
Event Duration-00:02:17