Ad blocker interference detected!
Wikia is a free-to-use site that makes money from advertising. We have a modified experience for viewers using ad blockers

Wikia is not accessible if you've made further modifications. Remove the custom ad blocker rule(s) and the page will load as expected.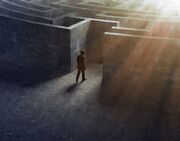 Posted on 1 April 2015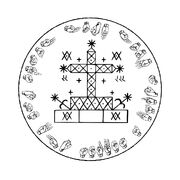 The hnds are exactly what they look like
You should have a sentence now. Google it starting with the word one. There will be a word that will show several times 
Official Solution:

First, one notices the hand symbols around the edge of the circle, which spells out to say:

"One who serves a baron with both hands"

Second, notice the symbol in the middle, which is a veve for Baron Semedi.

Those who serve Baron Semedi with two hands are the vodou sorcerers bokors.

Thus the answer is "bokor."

stl.la/bokor
The video We Take You Alive or...