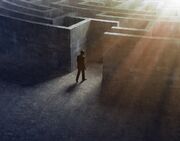 Original Link
Posted on 16th of October 2014
Puzzle
A doctor friend of mine had this unnerving and incendiary case of a patient born with a lazy eye, where their left eye diverted upwards and out. Later in life, after a poor diet, he developed a right eye that diverted inwards, towards his nose. Luckily, he was in the right place at the right time for the doctor to effectively correct his eyesight.
Due to the lack of a proper solution for now there is no hint.
Due to the lack of a proper solution for now there is no hint.
A proposed solution is that counting the words gives you the number 64. Since the word incendiary is used this lead to the fire of Rome in 64
stl.la/rome64  gives a image of a letter of Stella to her father
Transcript:
Dad,
you know how much I love you. I would never do anything to intentionally hurt you. BUT, you've also taught me to be strong, to be independent, to learn everything I can about the world, as corrupt as it is, and to form my own opinions.
Ad blocker interference detected!
Wikia is a free-to-use site that makes money from advertising. We have a modified experience for viewers using ad blockers

Wikia is not accessible if you've made further modifications. Remove the custom ad blocker rule(s) and the page will load as expected.