Obtained via reward in The Rebel

Posted on 8 October 2014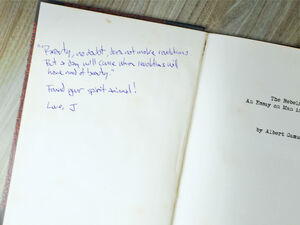 Transcript
In the inside of the cover there is a note with a quote from the book "Beauty, no doubt, does not make revolutions,. But a day will come when revolutions will have need of beauty" followed  by "Found your spirit animal!". This is signed someone who did it with the message  "Love, J" .
Extra Notes
The book is Albert Camus's "The Rebel: An Essay on Man in Revolt". 
The J later was revealed to be of Jake
Ad blocker interference detected!
Wikia is a free-to-use site that makes money from advertising. We have a modified experience for viewers using ad blockers

Wikia is not accessible if you've made further modifications. Remove the custom ad blocker rule(s) and the page will load as expected.