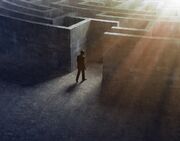 Posted on 22 January 2015
Puzzle
There is an image with the following letters on the green truck:
  XGJZWEXFPZYPQ
  QNXFJQLJXGC0X
  HJZRPZXAQRHXZ
  TYMYXQEZRZTTK

The line breaks are wrong. Break at the zero. Divide and conquer.
There are two parts. How many characters in each part? Is there a common divisor? Split the lines up into their smaller parts and figure out what those are.
There are various modes of transportation shown in the image. The water tower indicates the important one.
The breaks between lines are in the wrong place. Combine all the lines into one string of characters and then separate them at the zero ("0") instead. Note that the resulting strings have 24 and 27 letters, which are both divisible by 3. Those groups of three letters turn out to be railway station codes which can be looked up here: List of IATA-indexed railway stations .
  XGJ - Cobourg railway station, Canada
  ZWE - Antwerpen-Centraal railway station, Antwerp, Belgium
  XFP - Malmö Central Station, Sweden
  ZYP - Pennsylvania Station, New York City, New York, United States
  QQN - Birmingham New Street railway station, Birmingham, UK
  XFJ - Eskilstuna Central station, Eskilstuna, Sweden
  QLJ - Lucerne railway station, Lucerne, Switzerland
  XGC - Lund Central Station, Sweden

  XHJ - Aachen Hauptbahnhof, Aachen, Germany
  ZRP - Pennsylvania Station, Newark, New Jersey, United States
  ZXA - Aberdeen railway station, Scotland
  QRH - Rotterdam Centraal railway station, Netherlands
  XZT - Trondheim Central Station, Norway
  YMY - Montreal Central Station, Quebec, Canada (no longer an airport)
  XQE - Ebbsfleet International railway station, Ebbsfleet Valley, UK (Eurostar)
  ZRZ - New Carrollton (WMATA station), New Carrollton, Maryland, United States
  TTK - Tottenham Hale station, London, United Kingdom (no airport)

Taking the first letter of each station results in the solution stl.la/campbellapartment.
Reward
Ad blocker interference detected!
Wikia is a free-to-use site that makes money from advertising. We have a modified experience for viewers using ad blockers

Wikia is not accessible if you've made further modifications. Remove the custom ad blocker rule(s) and the page will load as expected.