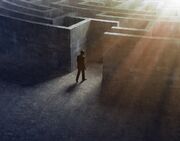 Posted on 1 June 2015
Puzzle
Today's Student-authored Challenge will test your skills of observation, deductive and nonassumptive observation: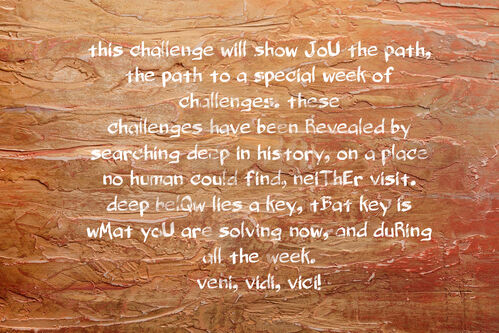 Read the inscription. Two things you need are in there.
The key is one word that is plural.
From the capitalized letters in the inscription we get "JURTEQBMUR". And the text includes the instructions ... tBat key is wMat yoU are solving now, and duRing all the week.  What you are "solving now" is "this challenge" (from the first line of the inscription), and what you are solving "during all the week" is "these challenges" (third and fourth line). Trying different ciphers and variations of "this challenge" and "these challenges" for the keyword leads to the discovery that the cipher text "JURTEQBMUR" is encoded using a keyed substitution cipher with the keyword "challenges". To decode, simply substitute the letters from the following table, where the first line begins with the distinct letters of the word "CHALLENGES":
C H A L E N G S B D F I J K M O P Q R T U V W X Y Z
A B C D E F G H I J K L M N O P Q R S T U V W X Y Z

Decoding the letters with that table results in MUSTERIOUS. The solution is stl.la/musterious .
Ad blocker interference detected!
Wikia is a free-to-use site that makes money from advertising. We have a modified experience for viewers using ad blockers

Wikia is not accessible if you've made further modifications. Remove the custom ad blocker rule(s) and the page will load as expected.