Obtained as a reward from Babe

Posted on 11 of March 2015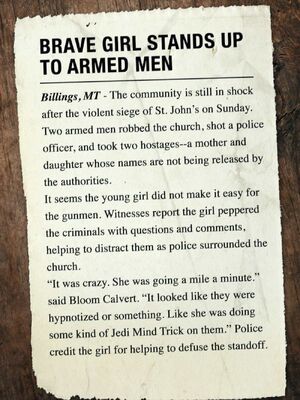 Transcript
Brave girl stands up to armed men
Billing, MT - The community is still in shock
after the violent siege of St. John's on Sunday.
Two armed men robbed the church, shot a police
officer, and tool two hostages -- a mother and
daughter whose names are not being released by
the authorities.
It seems the young girl did not make it easy for
the gunmen. Witness report the girl peppered
the criminals with questions and comments,
helping to distract them as police surrounded the
church.
"It was crazy. She was going a mile a minute."
said Bloom Calvert. "it looked like they were
hypnotized or something. Like she was doing 
some kind of Jedi Mind Trick in them." Police
credit the girl for helping to defuse the standoff
Ad blocker interference detected!
Wikia is a free-to-use site that makes money from advertising. We have a modified experience for viewers using ad blockers

Wikia is not accessible if you've made further modifications. Remove the custom ad blocker rule(s) and the page will load as expected.