Posted on 21 April 2015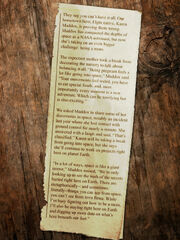 Transcript
They say you can't have it all. Our hometown hero, Elgin native, Karen Maddox, is proving them wrong. Maddox has conquered the depths of space as a NASA astronaut, but now she's taking on an even bigger challenge: being mom.
The expectant mother took a break from decorating the nursery to talk about balancing it all. "Being pregnant feels a lot like going into space." Maddox said. "Your movements feel weird, you have to eat special foods, and, most importantly every moment is a new adventure. Which can be terrifying but is also exciting."
We asked Maddox to share some of her discoveries in space, notably an incident last year where she lost contact with the ground control for nearly a minute. She answered with a laugh and said, "That's classified." Karen will be taking a break from going into space, but she says she'll continue to work on projects right here on planet Earth.
"In a lot of ways, space is like a giant mirror," Maddox mused, "We're only looking up to see the truth of the secrets buried right here on Earth. There are metaphorically -- and sometimes literally -- things you can see from space, you can't see from terra firma. While I'm busy figuring out how to be a mom, I'll also be staying right here on Earth and digging up more data on what's here beneath our feet.
Ad blocker interference detected!
Wikia is a free-to-use site that makes money from advertising. We have a modified experience for viewers using ad blockers

Wikia is not accessible if you've made further modifications. Remove the custom ad blocker rule(s) and the page will load as expected.