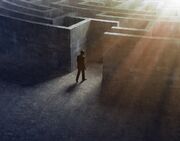 Posted on 14 April 2015
Puzzle
Twin Cities...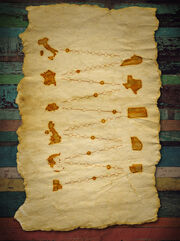 Half of the shadows are countries in Europe the other USA states
There is one town in common between the connected lines
You first identify the shapes, discovering that they represent both countries and US states:

ITALY KENTUCKY FRANCE TEXAS SWITZERLAND KANSAS UNITED KINGDOM GEORGIA GREECE WASHINGTON RHODE ISLAND You make the leap (based on the clue) that you need to find a city that appears in each pair of linked states/countries, using the number of circles linking them as a guide. Through research you come up with the following: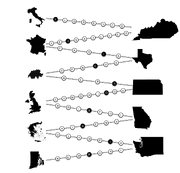 Putting the letters in the black circles together, you get the answer: FRIENDSHIP stl.la/friendship.
Reward
The video Really Aggressive Human
Ad blocker interference detected!
Wikia is a free-to-use site that makes money from advertising. We have a modified experience for viewers using ad blockers

Wikia is not accessible if you've made further modifications. Remove the custom ad blocker rule(s) and the page will load as expected.