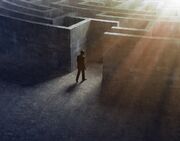 Posted on 13 May 2015
Puzzle
filler
The columns are Greek or Roman Corinthian architecture.  One of those may be a clue.
It looks like quite a few words have one uncommon letter of the alphabet.  And the ones that don't have more than one occurrance of a different letter.  There's a third letter that also matters.
Extract the X's, V's and I's from the words and phrases to make Roman numerals. Then convert those numbers to letters of the alphabet:
BIKINIS              III    3 C
EXOTOXIN             XXI   21 U
EXTRAVAGATING KIWIS  XVIII 18 R
EXERT SIX            XIX   19 S
XEROXING             XXI   21 U
EXPO SIXTY           XIX   19 S

POXVIRUS             XVI   16 P
EXOTOXINS            XXI   21 U
AIRSHIP              II     2 B
EXHIBIT              XII   12 L
JINX                 IX     9 I
INFINITE             III    3 C
EXOTOXIN             XXI   11 U
EPOXY QUIXOTES       XIX   19 S

The solution is stl.la/cursuspublicus .
Ad blocker interference detected!
Wikia is a free-to-use site that makes money from advertising. We have a modified experience for viewers using ad blockers

Wikia is not accessible if you've made further modifications. Remove the custom ad blocker rule(s) and the page will load as expected.