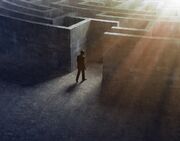 Posted on 2nd December 2014
Puzzle
It's just a jump to the left...
Remember you jumped to the left somewhere
The answer might be at the tip of your fingers
The trick here is use a QWERTY keyboard and move one key to the right
That way
rguauartouxKKTRGWYOOWENIARKWDRNIARJWTIBTIYEJWTVIes
becomes
thisistypicLLYTHEUPPERMOSTLEFTMOSTKEYONYOURKEYBOrd
(notice the absence of A is due to the fact that the key to the left is Caps Lock which is what causes the capital letters)
stl.la/escapekey  leads to 1989 Scan
Reward
After Dad and I patched things up last week he gave me this picture of Mom. It's just a picture, nothing more.
Ad blocker interference detected!
Wikia is a free-to-use site that makes money from advertising. We have a modified experience for viewers using ad blockers

Wikia is not accessible if you've made further modifications. Remove the custom ad blocker rule(s) and the page will load as expected.