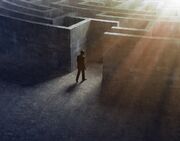 Posted on 21 April 2015
Puzzle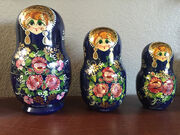 There are three Russian nesting dolls (Matryoshka) with the following text:
   26 сентября 1849
   31565 дней
   выделять слюну
Left one is a birth date.
The middle means 31565 or 86 years (the time a person lived until 27.02.1936).
The right one means "to allocate saliva" so we guess "salivating", which would lead to a dog experiments which lead to the discovery (or invention) of classical conditionalism.
Conclusion:
Ivan Pavlov!
or:
Reward
The article in Maddox Clipping
Ad blocker interference detected!
Wikia is a free-to-use site that makes money from advertising. We have a modified experience for viewers using ad blockers

Wikia is not accessible if you've made further modifications. Remove the custom ad blocker rule(s) and the page will load as expected.