Ad blocker interference detected!
Wikia is a free-to-use site that makes money from advertising. We have a modified experience for viewers using ad blockers

Wikia is not accessible if you've made further modifications. Remove the custom ad blocker rule(s) and the page will load as expected.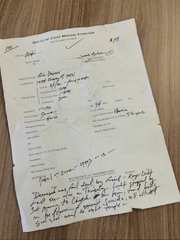 Posted on 28 October 2014

It is a death report for a Piotr Denisov
Transcript
Edit
dead in 8/1/92 in the county of Austin in the address
Medical Investigator James Hawkens MD
Last Residence 1634 Chimney P 78731
Date and Time of Death 8/1/92 found 10:20 AM
Date and Time Examiner notified 12 PM
Date and Time of arrival at scene 1:44 PM
Date and Time of Departure 2:00 PM
Reported by (unable to read writing)
Character of Premises (unable to read writing)
Age 34
Citizen of what Country Ukraine
How long resident of city of Austin 5 1/2 years
Identified by (unable to read writing)
"Deceased was found dead by friend - Roger Licht. Last seen alive on Thursday. Licht stopped by Saturday morning to check on him, found body in bedroom of apartment. Suicide, self inflicted gun shot wound to right temple."