Ad blocker interference detected!
Wikia is a free-to-use site that makes money from advertising. We have a modified experience for viewers using ad blockers

Wikia is not accessible if you've made further modifications. Remove the custom ad blocker rule(s) and the page will load as expected.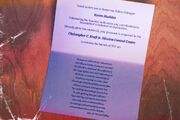 Reward from solving Chance
Direct Link - http://www.ancientsocieties.com/autumnal-frost/

Posted on 10 November 2014
Transcript
Edit
Invitation sent to me from Greg Jordan. One of my students figured out that it's a fake.
NASA invites you to honor our fallen colleague
Karen Maddox
Celebrating her bravery, dedication and contributions to humankind's endeavor of exploration.
Directly after the memorial, presences is requested in the Christopher C. Kraft Jr. Mission Control Center
to witness the launch of STS-46 ---
And you as well must die, beloved dust,
And all your beauty stand you in no stead;
This flawless, vital hand, this perfect head,
This body of flame and steel, before the gust
Of Death, or under his autumnal frost,
Shall be as any leaf, be no less dead
Than the first leaf that fell,—this wonder fled.
Altered, estranged, disintegrated, lost.
Nor shall my love avail you in your hour.
In spite of all my love, you will arise
Upon that day and wander down the air
Obscurely as the unattended flower,
It mattering not how beautiful you were,
Or how beloved above all else that dies. -- Edna St. Vincent Millay