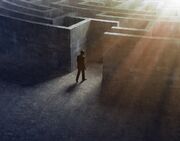 Posted on 10 April 2015
Puzzle
 ____                   _      _   _                                     _       
 / ___| _ __   ___  __ _| | __ | |_| |__   ___   ___ _ __   ___  ___  ___| |__    
 \___ \| '_ \ / _ \/ _` | |/ / | __| '_ \ / _ \ / __| '_ \ / _ \/ _ \/ __| '_ \   
  ___) | |_) |  __/ (_| |   <  | |_| | | |  __/ \__ \ |_) |  __/  __/ (__| | | |_ 
 |____/| .__/ \___|\__,_|_|\_\  \__|_| |_|\___| |___/ .__/ \___|\___|\___|_| |_( )
  _   _|_|               _   _            _   _ _   |_|                        |/ 
 | |_| |__   ___ _ __   | |_| |__   ___  | |_(_) |_| | ___                        
 | __| '_ \ / _ \ '_ \  | __| '_ \ / _ \ | __| | __| |/ _ \                       
 | |_| | | |  __/ | | | | |_| | | |  __/ | |_| | |_| |  __/_                       
  \__|_| |_|\___|_| |_|  \__|_| |_|\___|  \__|_|\__|_|\___(_)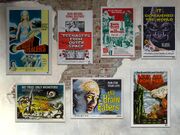 Read the movie taglines outloud
Notice the numbers the posters at the bottom
The hint text asks you to "speak the speech" (the descriptive text on the posters) and "then the title," which is in ASCII art. Thus you might start saying, out loud, the various odd movie descriptions.

Additionally, if you do image searches to compare these posters with the originals, you see that the descriptions of the movies and the numbers on the bottom of each poster have been changed for the Challenge. Looking at (and reading aloud) the odd descriptions of the movies, you notice that each phrase has a phonetic number inside (see below). And if you follow the next part of the hint text and look at the title… You index the phonetic number of the description into the title of the movie, you get:
Misevents abound! Can Earth survive?            7  - The Body Stealers                               - Y
Run Before Teens destroy you!                       14  - Teenagers from Outer Space             - O
Asinine Martians take Santa!                            9  - Santa Claus Conquers the martians    - U
No need to resist                                               2  - It Conquered the World                       - T
No trees only monsters!                                    3 - Journey to the Seventh Planet             - U
Run for your life!                                                4 - The Brain Eaters                                  - B
Too beautiful and deadly!                                  2  - Devil Girl From Mars                           - E
So now you know you need to find something on YouTube. Looking to the numbers at the bottom of each poster, you realize you need to convert them into an alphanumeric string, so you try ASCII values (from the clue), and reading from left to right.

105 080 102 086 089 090 104 080 050 076 073

converts to:

iPfVYZhP2LI

Thus Youtube + iPfVYZhP2LI = https://www.youtube.com/watch?v=iPfVYZhP2LI

Leading to the Attack of the Triffids trailer. And the week has been B-movie monsters so...

TRIFFIDS!!!! stl.la/triffids
Reward
The Letter in Space Camp
Ad blocker interference detected!
Wikia is a free-to-use site that makes money from advertising. We have a modified experience for viewers using ad blockers

Wikia is not accessible if you've made further modifications. Remove the custom ad blocker rule(s) and the page will load as expected.