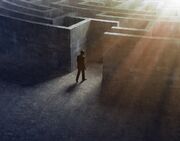 Posted on 7th February 2015
Puzzle
Another week has gone. Have you been paying attention?
Check the image for some letters. Also remember this week theme.
If you are having problems finding the right string of letters it is VZZEDAQXKEQGHVMPKEW. Now figure how to use  the week theme with it
Reward
The video Looney Tunes
Ad blocker interference detected!
Wikia is a free-to-use site that makes money from advertising. We have a modified experience for viewers using ad blockers

Wikia is not accessible if you've made further modifications. Remove the custom ad blocker rule(s) and the page will load as expected.