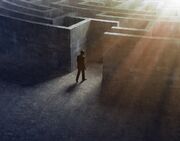 Posted on 7 April 2015
Puzzle
The Oscilator goes down and up, down and up
Notice each letter is always on top of the lines that go up and down.  Any way of making letters go up and down ?
From the visual clue (oscillator), you alternate going forward one letter with going backward one letter (R->S, M->L, H->I, etc.). This gives you SLIME PEOPLE. Answer: stl.la/slimepeople
Reward
The video It's Just Beginning
Ad blocker interference detected!
Wikia is a free-to-use site that makes money from advertising. We have a modified experience for viewers using ad blockers

Wikia is not accessible if you've made further modifications. Remove the custom ad blocker rule(s) and the page will load as expected.